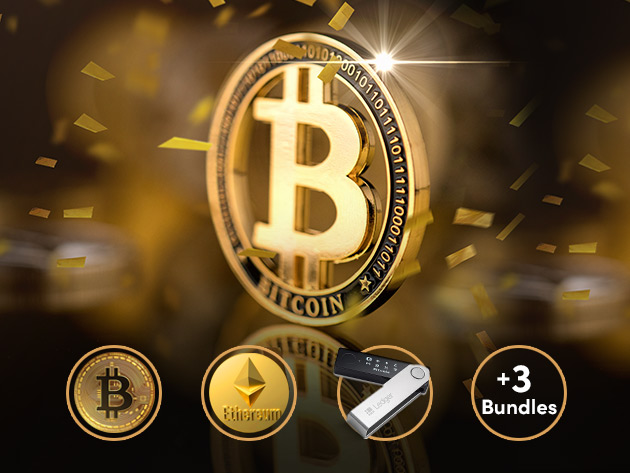 The Complete Bitcoin (BTC) Investment Giveaway
Enter to Win $10k worth in Bitcoin + Ethereum, a Crypto Hardware Wallet, & Investment Courses to Get You Started!
Description
Want to dive into the exciting world of cryptocurrency, but don't know where to start? We're here to hook you up with the ultimate crypto giveaway. You'll get $8k worth in Bitcoin + $2k worth in Ethereum on Coinbase, along with the best-selling, highest security standard Ledger Nano X Hardware Wallet to keep all of your crypto assets safe & secure.
Sure, that's great and all, but what do you do with all that new crypto-cash? Don't worry — we've got you covered with not one, not two, but three extensive cryptocurrency and investment training bundles that will walk you through everything you need to know about investing, trading, and managing your new crypto assets.
Start your portfolio with $10k worth in Bitcoin and Ethereum right away on the most trusted cryptocurrency platform, Coinbase
Build on your initial funds by trading and investing on Coinbase
Keep your crypto assets safe & secure in your top-tier Ledger Nano X digital wallet
Learn how to invest smartly & build your crypto portfolio with 22 courses and over 85 hours of training from crypto experts
Interested in more chances to win? Check out these options to donate to a great cause and earn more entries:
What You'll Win:
$8K worth in Bitcoin on Coinbase (Value: $8,000)
$2K worth in Ethereum on Coinbase (Value: $2,000)
Ledger Nano X Hardware Wallet (Value: $119)
The Complete Stock & Cryptocurrency Investment Toolkit Bundle (Value: $1,815)
The Bitcoin and Cryptocurrency Mastery Bundle (Value: $99)
The Complete Cryptocurrency Investment Bundle (Value: $479)
Total Value: $12,512